This will be my last mention of "The Paid Expert".
If you have ANY skill/knowledge/expertise, you should check this out as a new income stream for yourself.
http://jvz2.com/c/101427/81245
People are earning money giving pianoor guitar lessons, giving fashion or makeup advice. People are teaching how to cook, exercise and even breastfeed! (That last one is a guy!…an MD but still that's a little odd)
If you know how to do something people would be willing to pay for, discover how to get Google advertising your services…
Get all the details here:
http://jvz2.com/c/101427/81245
Now, if you live near a Walmart,McDonald's or Dunkin Donuts and you have a smart phone, you can be earning money in minutes with a different form of mystery shopping.
If you have an iPhone or an Android look in their app stores for two apps… Mobee and Gigwalk
They're both free and to signup all you need is an email address and for Gigwalk, a Paypal address.
Typically, you'll take a few pictures and answer some yes or no questions.
Mobee pays in points but they can add up quickly.
You'll get 300 points to start which is equivalent to $3 by using referral code "TNLV"
500 points gets you $5 gift cards to Facebook or Starbucks for example.
1000 points gets you $10 gift cards to places like iTunes, Fandango,Target or Dunkin Donuts.
Gigwalk pays via Paypal and gigs pay $5-$20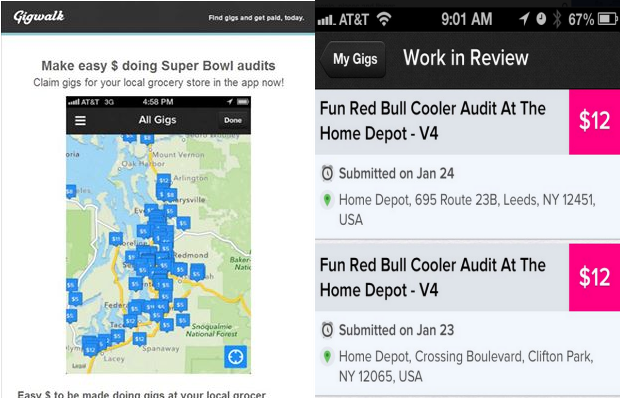 These are both painless ways to dip your toe into mystery shopping.
Don't forget the Mobee referral code of "TNLV" to get 300 points.
If you have a smartphone, give it a try and let me know how it goes!
No smartphone? Send this blog post to a friend who has one and get a commission from them!
All is not lost, let's get you $10 for doing something you already do.
I've mentioned eBates for years and now they are offering a $10 gift card after you spend$25 at one of their famous merchants.
Get all the details at:
Get $25 to $50 by opening a new online bank account through Capital One 360.
They used to be ING Direct and I've had accounts with them for years.
They are FDIC insured just like your local bank and there is no need to change banks.
I like having an online bank so I don't have instant access to the money.
They also have a special account for kids.
Get all the details at:
http://bit.ly/1ezIpDd
That's all for today.
Hopefully you "found" some money you didn't know about.
Feel free to forward this blog post to anyone you think would be helped by the info.
Thank you,
Leo
P.S. Do you have a Fitbit by any chance?
I've got one and need some friends to add to my roster so we can inspire (shame?) each other.
Let me know.
Follow me on FB
http://www.Facebook.com/YourMoneyMotivator
 UPDATE
I've been approved by Google to help people with mystery shopping.
For the time being this help is FREE
Schedule your consultation at:
http://bit.ly/1ieSA4i
My goal for these helpouts is to get you your very first mystery shopping job.
{ 0 comments }